Professional Window Cleaning Services From Karin's Services in Minneapolis, MN
When it comes to commercial window washing, it's in your best interests to reach out to an experienced team that knows how to clean windows thoroughly and efficiently. At Karin's Services, we hold our employees to a high standard of professionalism to ensure that they always do an excellent job — meaning that your business can depend on us for all your window cleaning needs in Minneapolis, MN, and the surrounding area.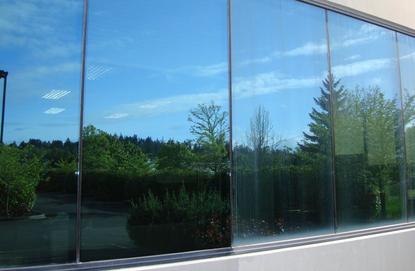 Why Hire Window Cleaners?
Cleaning windows can be a tedious task for many, especially for larger homes and commercial establishments with multiple floors. When you engage professional window cleaners like us, you not only get windows cleaned efficiently, but you also prevent potential damage caused by stubborn stains and dirt.
Most DIY window cleaners utilize paper towels and a spray bottle filled with an average glass cleaner. This method often leaves streaks and doesn't clean the window thoroughly. Our professional window cleaners, armed with industry-grade equipment such as squeegees and a specialized glass cleaner, leave your windows spotless with streak-free results.
Professional window cleaning goes beyond the surface. We also inspect your glass for broken thermals, extending the lifespan of your windows.
Read More
Residential Window Cleaning
Home is where the heart is, and a clean home elevates the spirit. Clean windows are no exception. It's about more than just aesthetics; regular window cleaning prevents build-up of debris and water spots, maintaining the integrity of your windows.
Our team employs a meticulous process to clean windows in your home. Starting with the removal of dirt and debris, we then apply a cleaning solution with a microfiber cloth or a brush to ensure a thorough clean. After a comprehensive rinse, we use a squeegee for a streak-free shine.
But our service doesn't stop at your windows. We pay attention to other glass surfaces in your home, including mirrors. By using a lint-free rag and specific cleaners, we make sure these surfaces match the sparkling cleanliness of your windows.
Commercial Window Cleaning
The appearance of a commercial establishment can say a lot about the business itself. Grimy windows can leave a negative impression, but sparkling clean windows project professionalism and attention to detail.
Whether you have a shop, an office building, or a restaurant, our window cleaning services in Minneapolis, MN, are designed to help your business shine. We have the right equipment, including ladders and extended squeegees, to clean windows in high and hard-to-reach areas safely.
Additionally, our window cleaners take the utmost care not to disturb your employees or customers. With minimal disruption, we will leave your commercial establishment looking its best.
Why Window Cleaning Is Important for Homes and Businesses
Regular cleaning of windows is a small but significant part of maintaining your house or business. It's not only about appearance. Over time, windows can gather dirt, dust, and grime, which could lead to damage. The accumulated dirt can etch into the glass, causing scratches and blemishes.
Moreover, clean windows allow more natural light to enter, enhancing the atmosphere within your space. They also offer a clear view of the outside world, increasing the overall appeal of your home or business.
For homes, clean windows boost curb appeal. For businesses, clean windows can potentially attract more customers. In both cases, professional window cleaning can contribute to maintaining or increasing the property's value.
Keep Your Windows Crystal Clear With Karin's Services!
Your search for "window cleaning near me" ends here. With years of experience and a team of dedicated professionals, Karin's Services provides top-tier window cleaning services in Minneapolis, MN. Our commitment to quality and customer satisfaction sets us apart from other window cleaners.
Moreover, we offer a variety of other services like gutter cleaning, pressure washing, and holiday lighting to make your home or business shine inside and out.
Window cleaning is more than just a chore—it's an essential maintenance task that helps preserve the life and appearance of your windows. Whether you're looking to spruce up your home or give your business a clean, professional look, our window cleaning services in Minneapolis, MN, are here to help.
With Karin's Services, you can expect nothing less than exceptional service, professional staff, and spotless, streak-free windows. Contact us today to schedule an appointment, and let us make your windows shine!
Why is it important that I select a professional window cleaner?
Window cleaning must be done correctly and safely by a professional window cleaner. If done incorrectly, it can expose you and your home to unnecessary problems, damage, and liability.
Does your contractor look professional and wear company uniforms?
Yes – we invest in looking professional and we're in this for the long haul. Our entire team prides itself on offering high-quality customer service to each of our customers, which is part of our professional approach to our industry. Additionally, we are a fully insured business.
What professional organizations are associated with a window cleaning business?
The International Window Cleaning Association (IWCA –

www.iwca.org

)

Association of United Window Cleaners (AUWC –

www.auwc.org

)

Master Window Cleaners of America (MWCoA –

www.mwcoa.com

)
All three associations are non-profit trade associations committed to improving the standards of professionalism within the window cleaning business industry. The primary goal of these organizations is to advance the interests and concerns of its members. Through various programs they promote safety, training and a professional and responsible image of the window cleaning professional.
What safety and training are required for professional window washers?
OSHA law requires window cleaning contractors to train their employees. Homeowners, building owners and managers have an obligation under the General Duty clause of OSHA to provide a safe workplace. There is a shared responsibility between the property and their contractors. A competent contractor will help assure this obligation is met.
How do I prepare for window cleaning?
Close all windows.

Remove fragile items from window areas.

Window cleaners will move anything that is not moved from window areas as carefully as possible. However, we cannot be responsible for damaged items.
Should I have my windows cleaned before selling my house?
Absolutely! According to a survey of 2000 real estate agents conducted by HomeGain.com and reported on in Money Magazine, having windows cleaned is one of the most cost-effective and high-return investments you can make on your home before putting it on the market.
HomeGain.com – Home Sale Maximizer Guide – Money Magazine – June 2003 Home Economics Article
Do you clean the screens too?
Yes – if we have to remove the screen to clean the window we will clean the screen for free (basic screen cleaning).
Are you insured?
Yes – Karin's Services is fully insured. For our customer's peace of mind, we are one of the few companies of our kind to cover all employees by Worker's Compensation and carry damage liability insurance – protecting our valuable customer from any potential liability claims.
What if it's supposed to rain when my service is going to be done?
Since we work in Minnesota and weather changes almost every hour, we typically wait until the time of your scheduled appointment to decide if the service should be completed or not. We can still clean your windows in a light to moderate rain. If there are significant storms or lightning we will typically reschedule with you. If it rains, we will proceed as normal because rain does not affect our cleaning process. At the very least, pressure washing, gutter cleaning, and all inside work is completed as scheduled to avoid disrupting your busy calendar. Because we know your time is important, we want to ensure that your appointment is completed in a timely manner and at the time you have planned for it. From our years of experience we're able to make accurate decisions ensuring that service, quality, and safety come first.
Doesn't rain make my windows dirty?
Dirt makes your windows dirty not rain. The dust from landscapers, tree pollen, exhaust, and many other sources settles on your windows. Raindrops move the dirt around your windows and after the rain dries the dirt remains on the glass. This residue is now very visible because it's been spread over the window. Clean windows remain clean even after rain because once the water dries there is nothing left behind to obscure your view.
How can I keep my windows cleaner longer?
Having Karin's Services pressure wash a house before cleaning the windows is the most beneficial thing to do to maintain a long-lasting shine for your windows. Cleaning the dirt off of the siding first will keep it from washing onto your windows.
Can windows be cleaned in the winter?
Yes! Window cleaning is even more important during the winter season. Road salt turns into an airborne powder from the vehicles driving over it. This dust settles on your windows just as any other type of dust does. We follow proper safety guidelines to ensure your winter service will be completed safely and to your complete satisfaction.